1 • Détails du voyage
A table !
Bon appetit!All meals during the circuit are included, except for dinner on day 15 if you have a late flight.Breakfast and dinner at the hotels.Picnic lunch, or midday meal in local restaurants or at the hotel.Local food featuring rice, fish, chicken, etc.A trip in Madagascar guarantees a wide variety of quality food! Drinks are not included except for tea, coffee and water from a water tank (except at restaurants). You can buy reasonably-priced drinks at small roadside shops. It is important to drink regularly (an average of 3 to 4 litres per day) to avoid dehydration.
La toilette (et les toilettes)
Your toilette (and toilets)Accommodations provide a good level of comfort (en-suite bathrooms and toilet)
Suivez le guide !
Follow the guide!You will travel with a local French-speaking team: a driver, a Malagasy guide from Nomade Adventure with in-depth knowledge of his/her country, as well as local park guides on certain excursions (i.e. Ankarana National Park, Montagne d'Ambre, etc.)You will also be travelling with two experts in their fields: Agathe and Thomas Haevermans, members of the Société des Explorateurs Français.
Un pro à vos côtés
An expert guideIn fact, not one, but two experts will accompany you throughout your trip! Agathe Haevermans:After starting at the Muséum National d'Histoire Naturelle in Paris as animal caretaker, specialising in reptiles, Agathe became a scientific illustrator in 1999. She draws mainly botanical illustrations that demand descriptive iconography for the Museum's Institute of Systemics, Evolution and Biodiversity. Her work also leads her to run international training sessions (Australia, Vietnam, Cambodia, Laos, Bogor and Bali in Indonesia) during which she covers both line drawing and watercolour techniques. An enthusiastic naturalist artist, she sculpts and engraves on her own time, or for specific collaborative scientific projects. Her works are regularly exhibited at national and international events. Passionate about botanical drawing, she is the author of several educational books on the subject, and also seeks to enhance the status of scientific drawing on a nationwide level as part of her work with the Société Française d'Illustration Botanique (French Botanical Illustration Society) which she created at the end of 2011. See , the Société Française d'Illustration Botanique website.Thomas Haevermans:After completing his doctoral thesis on "The Euphorbia genus in Madagascar: contributions of morphological and molecular data to our body of knowledge of the genus", he has managed, since 2011, the botanical team at the Institute of Systemics, Evolution and Biodiversity at the Muséum National d'Histoire Naturelle in Paris.Since 2004, he has also been appointed lecturer at the Muséum National d'Histoire Naturelle and botanist in charge of Monocotyledonous conservation. His botanical research has led him across Asia and Madagascar looking for bamboo, banana trees and other succulent euphorbia to study their systemics as well as their climate adaptation abilities.Both members of the Société des Explorateurs Français, Agathe and Thomas Haevermans have travelled to the four corners of the globe on research projects for the Muséum National d'Histoire Naturelle, and have published a unique work describing singular plants: L'Herbier Globetrotteur (publisher: Hachette Pratique)
On se déplace comment sur place ?
How do we travel in Madagascar?Depending on the number of participants: • 5 to 8 people: Minibus• 9 to 18 people: BusIn 4X4 vehicles on day 3 (4 people per vehicle) and day 5 (6 people per vehicle)In dug-out canoes and by boat
Vos bagages voyagent aussi...
Your luggage travels too...Your luggage follows you wherever you go, travelling by vehicle and boat
Volez en bonne compagnie !
Fly with us!We privilege the national airline Air Madagascar, but should you register late, there may be no more availability on the required dates or at least no seats left at "affordable" prices. In that case you may choose to book a flight with another company such as Air France, Corsair, Air Austral or Turkish Airlines. Any additional costs will be at your charge: additional hotel night(s), airport transfer separate from the group, and/or more expensive domestic flight(s).
Vol intérieur
Domestic flightsThis trip includes two domestic flights:- From Antananarivo to Diego Suarez on day 3- From Majunga to Antananarivo on day 15
On se donne RDV où ?
Where do we meet?If you book your international flights with Nomade, your guide or transfer assistant will meet you in the airport after you go through customs. He or she will be holding a sign with your names, or a Nomade Aventure sign.Upon arrival, a customs officer will ask you for the address of your hotel or your local address. You should give the address of our local correspondent:Hôtel Les 3 MétisLot IVA 1 Antaninandro, 101, MadagascarPlease note: If you do not comply with police, customs or health regulations of the concerned country on the day of departure, you forfeit the full price of the trip. Cancellation due to noncompliance is not covered by insurance. Information provided in our brochure and on our Internet site are not legally binding.
2 • Budget
Le prix comprend :
The price includes :• Antananarivo - Diego and Majunga - Antananarivo domestic flights, in economy class• Transfers to and from the arrival airport• The accompaniment by Agathe and Thomas Haevermans, member of the Society of French Explorers• Chauffeur services and a local French-speaking guide• Transport (of you and luggage) land and sea included in the program• Accommodation in a double room (or more rarely triple room)• Breakfasts, lunches and dinners (except the one indicated as free in the program)• The visits, the entrances of sites or parks and the activities indicated in the program (and not optional or carried out during free time)• Assistance from our local partner during the trip• The two days of empty return of the vehicle from Majunga to Diégo• Tourist vignettes
Le prix ne comprend pas :
The price does NOT include:• International flight• Visa fees• Single room supplement (on request)• Visits and activities indicated as optional or carried out during free time• Dinner of day 15 in case of late flight (if not on board)• The private transfer until the departure of the route or the first accommodation, in case of a separate flight of the group.• Drinks and any tips (see "tips" section)• Optional cancellation and / or repatriation insurance (see "Insurance" section)
Frais d'annulation
Si vous êtes dans l'obligation d'annuler votre voyage avant son commencement (date de départ), vous devez en informer dès que possible NOMADE AVENTURE et l'assureur par tout moyen écrit permettant d'obtenir un accusé de réception. C'est la date d'émission de l'écrit qui sera retenue comme date d'annulation pour facturer les frais d'annulation selon le barème ci-dessous :Plus de 60 jours avant la date de départ : 15% du prix total* du voyageDe 60 à 31 jours avant la date de départ : 28% du prix total* du voyageDe 30 à 14 jours avant la date de départ : 36% du prix total* du voyageDe 13 à 7 jours avant la date de départ : 54% du prix total* du voyageA moins de 7 jours de la date de départ : 66% du prix total* du voyage(*)Voir "total général (assurances incluses)" dans la rubrique "PRIX" du bulletin d'inscription.Pour plus de détails sur les conditions et frais d'annulation, annulation/résolution par certains participants et maintien du voyage pour les autres, consultez les articles 6, 6.1 et 6.2 dans les conditions de vente.
La clause 11.3 de nos conditions particulières de vente est applicable à ce voyage
11.3 Cas particulier des voyages accompagnés par une personnalité. Pour certains voyages, l'accompagnateur (chef d'expédition, intervenant, conférencier…) est nommément désigné dans le descriptif du voyage sur le site internet de Nomade Aventure : il s'agit notamment de ceux proposés en partenariat avec la Société des Explorateurs Français et accompagnés par l'un de ses membres, ou de ceux guidés par l'aventurier Evrard Wendenbaum. Sans la présence de cet accompagnateur, ces voyages ne sont généralement pas réalisables, ou ne sauraient, la plupart du temps, posséder le même attrait. Aussi, si par extraordinaire cet accompagnateur était empêché de prendre part au voyage en raison, notamment, d'un cas de force majeure, nous pourrions : soit soumettre à l'ensemble des participants la proposition d'un accompagnateur de substitution et, s'il est agréé par tous, maintenir le voyage ; soit annuler le voyage, et proposer à chaque inscrit le choix entre, d'une part un voyage de substitution avec ajustement éventuel du prix (complément à acquitter ou remboursement du trop-perçu), d'autre part l'annulation pure et simple de l'inscription avec remboursement immédiat des sommes versées. Cette situation exceptionnelle ne saurait en revanche donner lieu au versement de toute autre indemnité.
3 • Assurances
Pourquoi souscrire une assurance ?
Parce qu'on ne sait jamais ce qui peut vous arriver avant votre voyage, ou pendant !Malgré tous nos talents, nous ne savons pas encore prédire l'avenir…
Parce qu'on viendra vous chercher même à Bab el-Oued !Où que vous soyez, au fin fond de la Pampa, perdu dans les steppes ou perché sur un iceberg, notre assureur viendra vous chercher en cas de problème ! Bon, sauf sur la Lune, qu'on refuse toujours d'ajouter au contrat puisque notre fusée à propulsion d'idées ne serait pas aux normes européennes, bref…
Parce qu'on assure !Même si vous avez une carte bancaire qui assure, nous vous conseillons de vous renseigner pour connaître précisément les clauses de votre contrat ! Vous verrez que les plafonds de dédommagement et les garanties de notre assurance sont généralement plus avantageux que ceux proposés par des assurances classiques.Pendant le voyage : comment ça marche en cas de pépin ?Le bon réflexe : appelez ! Dès la survenue du problème, et avant d'engager quelque frais que ce soit, appelez Mutuaide Assistance (01 45 16 43 19) ou demandez à l'équipe locale de vous assister. Le plateau d'assistance est disponible 24h/24 et 7 jours/ 7.Etes-vous bien certain de ne pas vouloir souscrire une assurance voyage ?Pour le savoir, posez-vous les bonnes questions :
vos garanties couvrent-elles l'ensemble des participants de ce séjour ?
en cas de voyage interrompu, vos garanties proposent-elles un séjour de compensation ?
vos garanties assurent-elles le remboursement des frais médicaux à l'étranger jusqu'à 200.000€ par personne ?Pour décider en toute connaissance de cause, comparez :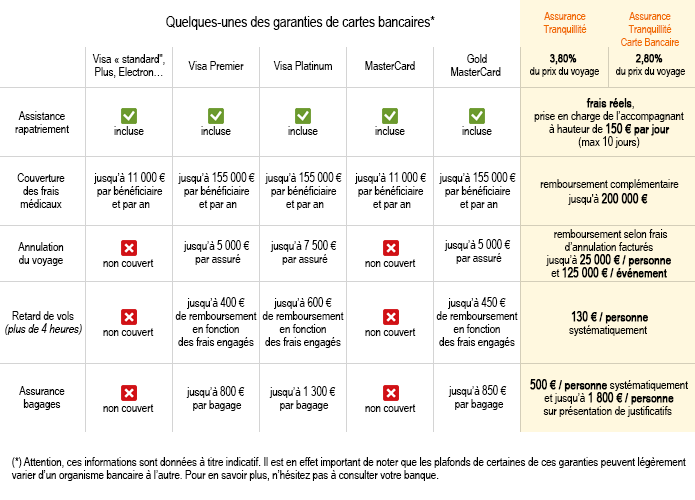 Un conseil : choisissez la tranquillité au meilleur prixSi vous réglez votre séjour avec une Visa Premier, Infinite ou Mastercard Gold, Platinum, souscrivez l'Assurance Tranquillité CB.Vous complèterez et renforcerez les garanties de l'assurance de votre carte bancaire. C'est la certitude de profiter d'une couverture optimale au meilleur prix !Last but not least…En souscrivant une assurance avec Nomade, vous profitez de l'aide de notre Service Relation Client pour accomplir vos démarches auprès de l'assureur. Vous mettez ainsi toutes les chances de votre côté pour bénéficier des garanties souscrites dans les meilleurs délais et en toute tranquillité. Si vous optez pour une assurance de carte bancaire, vous assurez vous-même les démarches et, un bon conseil, armez-vous de patience… !Souhaitez-vous souscrire une assurance voyage avec Nomade ?
Quel contrat choisir ?
Vous voulez dormir sur vos deux oreilles avant et pendant le voyage : choisissez le contrat Tranquillité (3,80% du prix de votre voyage)Vous bénéficiez d'une protection complète en cas d'annulation liée à un problème médical touchant votre personne ou vos proches, mais également si vous annulez votre séjour à cause d'un événement empêchant la réalisation du voyage. Par exemple, si jamais un volcan se réveille sans crier gare, les frais de report sont pris en charge. Perte de bagages, soucis médical, dentaire… qui menacent de gâcher votre séjour ? Vous êtes pris en charge. Pour de plus gros bobos, où que vous soyez, le contrat tranquillité assure votre rapatriement !
Vous hésitez car vous avez une carte bancaire qui assure : optez pour le contrat Tranquillité Carte Bancaire (2,80% du prix de votre voyage)Vous profitez exactement des mêmes garanties que celles du contrat Tranquillité, à la seule différence qu'il vient compléter les garanties proposées par votre assurance carte bancaire (attention, contrat réservé exclusivement aux titulaires de Visa Premier, MasterCard Gold, Platinum, Infinite, ayant réglé l'intégralité du séjour avec leur carte bancaire). En cas de problème, vous prévenez d'abord votre assurance carte bancaire, qui définira les modalités d'assistance et de dédommagement. Ensuite, votre contrat Tranquillité Carte Bancaire
4 • Equipement
5 • Formalités et santé
Formalités
Passeport
Passeport valide 6 mois après la date de retour pour les citoyens français. Pour les autres nationalités, nous sommes à votre disposition pour vous accompagner dans vos démarches. Passeport d'urgence. Ce document n'étant pas accepté partout, il faudra s'assurer, avant d'en faire la demande éventuelle, qu'il est reconnu par le pays concerné par le voyage ; on vérifiera également s'il implique une demande de visa (ce qui peut être le cas même pour des pays où on en est dispensé avec un passeport ordinaire). Si vous voyagez avec vos enfants, sachez que, dorénavant, les mineurs, quel que soit leur âge, doivent eux aussi avoir un passeport individuel. La législation française stipule que les mineurs voyageant avec leurs deux parents, ou un seul des deux, n'ont pas besoin d'être en possession d'une autorisation de sortie du territoire. En revanche, ce document est obligatoire (depuis le 15 janvier 2017) si cette condition d'accompagnement n'est pas remplie. Dans ce dernier cas, l'enfant devra présenter : passeport (ou carte d'identité, selon les exigences du pays de destination) ; le formulaire d'autorisation de sortie du territoire, signé par l'un des parents titulaires de l'autorité parentale (le formulaire d'autorisation de sortie du territoire est accessible sur le site www.service-public.fr) ; une photocopie du titre d'identité du parent signataire. Lorsqu'un mineur voyage avec l'un de ses parents dont il ne porte pas le nom, il est fortement conseillé soit de pouvoir prouver la filiation (https://www.service-public.fr/particuliers/vosdroits/F15392), soit de présenter une autorisation de sortie du territoire (formulaire Cerfa n° 15646*01) dûment remplie et signée par l'autre parent avec copie de sa pièce d'identité. Cette autorisation ne dispense pas de l'accomplissement de toute autre formalité spécifique à la destination concernant les mineurs. Mesures de sécurité dans les aéroports : les appareils électroniques (smartphones, tablettes, portables…) doivent être chargés et en état de fonctionnement pour tous les vols allant ou passant par les Etats-Unis et Londres. Les agents de contrôle doivent pouvoir les allumer. Par précaution, ayez votre chargeur à portée de main. Si votre appareil est déchargé ou défectueux, il sera confisqué. Cette mesure étant susceptible d'être étendue à d'autres aéroports, nous vous conseillons de charger vos appareils électroniques avant le vol quelle que soit votre destination. Permis de conduire : pour éviter tout désagrément, il peut-être utile, même pour les pays extra-européens reconnaissant officiellement sur leur territoire la validité du permis français, de se procurer également un permis de conduire international ou, à défaut, une traduction assermentée du permis français.
Visa
Visa obligatoire depuis le 1er janvier 2016. Il coûte 35 euros par personne (séjour de 30 jours maximum). Il peut être délivré à l'arrivée à l'aéroport d'Antananarivo (et à Nosy Be). Les formulaires sont alors à remplir sur place.
Formalités spécifiques
Formalities and HealthPassportFrench citizens must have a passport that is valid at least six months after their intended return date (other nationalities should check with their consulate or embassy). VisaA visa is required since January 1, 2016. It costs 31 euros per person (maximum stay: 30 days). It can be delivered upon arrival at the airport of Antananarivo (and at Nosy Be). You will be asked to complete the visa form at that time.Plus, a tourist vignette (tax) of €10 is charged to all travellers upon arrival at the airport. This tax serves to finance initiatives to promote and develop the country's tourism sector.Required vaccinationsNo vaccinations are required, except for travellers arriving from yellow-fever- infested countries. In this case, you must have a yellow fever vaccination at least 10 days before departure. Recommended vaccinationsFor any overseas travel it is a good idea to be immunised against: diphtheria, tetanus and polio as well as hepatites A and B, pertussis (a resurgence in the adult population, even in France, justifies this vaccination for any travel). Typhoid and rabies vaccinations are also recommended for long trips, and especially for children. [b]Malaria preventionMalaria is very present in Madagascar and has become a serious public health issue. In fact, a very severe form of the disease has spread throughout the island. Prevention consists first and foremost of individual anti-mosquito measures which also protect against the risk of other diseases (dengue, chikungunya, Zika virus): mosquito repellent and the use of insecticide-treated mosquito nets. While taking chloroquine-proguanil (Savarine) offers enough antimalarial protection on the island's south and west coasts and on the high plateaus, it can be insufficient on the coast around Tamatave (Toamasina) and the Pangalanes Canal. In these areas, travellers should take antimalarials such as atovaquone-proguanil (Malarone or one of its generics), mefloquine (Lariam) or Doxycycline.Other health risks: parasites, infection and injury By taking the precautions outlined in our general recommendations concerning food, environment and behaviour, you minimize the risk of any health-related problems on your trip. While cholera is no longer considered to be epidemic in Madagascar, it is still present and preventive measures should be taken to avoid it (and other food-related diseases such as hepatites A and E, salmonellae, etc.): frequent hand washing, drinking only bottled or treated water and beverages, eating only cooked food and while it is still hot, etc. Localised epidemics of the plague (transmitted by fleas on rats) can occur in remote areas. Associated with unsanitary conditions, an outbreak of this disease can be very serious for local populations, but poses virtually no risk for tourists. Insecurity exists almost exclusively in large cities, especially Tananarive and Tamatave, where you should be careful to take the usual precautions. We should mention the growing risk of sexually transmitted diseases, heightened by the recent emergence of sex tourism which the Malagasy authorities are starting to crack down on, especially when minors are involved. Naturally, you should never swim in any rivers; they are filled with parasites that can cause skin, intestinal or urinary tract infections. Swimming is also dangerous in the ocean in the Tamatave region due to the large shark population. Venomous marine animals (fish, shellfish, jellyfish) can cause serious accidents but you can count on the local populations to warn you of specific risks. As a precaution, always wear thick-soled shoes on beaches and in the ocean. Never touch spiky fish, even if they are dead. Scuba diving risks are minimized by using good equipment provided by centres in Nosy Be, Sainte-Marie, Ifaty and Belo-sur-Mer. This activity, however, is not risk-free: for more information (and to avoid unnecessary risks), refer to the information provided in our recommendations.
Vaccins obligatoires
Il n'y en a pas, sauf contre la fièvre jaune pour les voyageurs en provenance de pays infestés. Dans ce cas, le vaccin doit être fait au moins 10 jours avant le départ.
Vaccins conseillés
Il est comme pour tous les voyages recommandés d'être immunisé contre la diphtérie, le tétanos, la coqueluche et la poliomyélite, les hépatites A et B, la rougeole pour les enfants, la typhoïde et rage pour les voyages plus longs et surtout pour les enfants.
Paludisme
Le paludisme, très présent à Madagascar, est responsable, d'un très préoccupant problème de santé publique. Il sévit dans toute l'île, sous une forme sévère. La prévention doit passer d'abord par des mesures individuelles de protection contre les moustiques qui protègeront contre les risques d'autres maladies (dengue, chikungunya, virus Zika) : répulsifs et utilisation de moustiquaires imprégnées. Si la prévention par chloroquine-proguanil (Savarine) reste suffisante sur les côtes sud, ouest, dans le nord et sur les hauts-plateaux, elle peut ne pas l'être sur la côte est autour de Tamatave (Toamasina) et du canal des Pangalanes ; là, les voyageurs devront se protéger, par Atovaquone-Proguanil (Malarone ou un de ses génériques) ou Doxycycline. Compte tenu du risque d'effets indésirables, la prescription de méfloquine (Lariam) ne sera proposée aux voyageurs qu'en cas de bonne tolérance lors de voyages antérieurs ou de contre-indication aux autres médicaments actifs.
6 • Le pays
7 • Tourisme responsable
Charte éthique du voyageur
Charte éthique du voyageurChacun de nous peut contribuer à être un voyageur responsable, attentif au monde et à ses habitants, en suivant quelques conseils, avant, pendant et après le voyage.Avant le voyage : Préparer son voyage, c'est d'abord s'intéresser à la destination.
Bien s'informer sur les habitants et leur mode de vie, le patrimoine, la religion, l'environnement, l'économie, et apprendre quelques mots dans la langue de la destination.
Choisir des professionnels impliqués dans le tourisme responsable : agences de voyage, tour-opérateurs, compagnies aériennes, guides, activités sur place, hébergements, restaurants.
N'emporter que l'essentiel, et garder de la place dans la valise pour ramener des souvenirs fabriqués localement. Se renseigner sur la pratique et les limites du marchandage des prix et sur les pourboires laissés aux professionnels : restaurants, hébergements, guides, artisans, commerçants, sans s'obstiner à vouloir obtenir des privilèges.
Pour partir l'esprit léger, garder l'esprit critique. S'interroger sur la réalité des risques de la destination, et se renseigner auprès des organismes compétents, sans se laisser trop influencer par certains médias.Pendant le voyage : Respecter aussi bien la nature que les hommes et leur culture.
Se mettre au diapason des us et coutumes de la destination, sans imposer ses habitudes ni son style de vie, en portant attention à la manière de s'habiller notamment dans les lieux de culte, mais aussi aux signes de richesse qui peuvent contraster avec le niveau de vie local. Goûter la cuisine locale, et être curieux des modes d'hébergements authentiques.
Avant de photographier une personne, prendre le temps de lui demander l'autorisation et profiter de l'occasion pour nouer le dialogue. Pour les enfants, demander l'accord des parents.
Comme chez soi, trier les déchets lorsque cela est possible, économiser l'eau et l'énergie. Respecter aussi les règles affichées dans les espaces naturels, afin de préserver l'équilibre des lieux, de même que dans les musées, les villes, ou sur les plages.
Veiller à ne pas prélever de souvenirs dans les sites naturels et archéologiques, et à ne pas favoriser le vol et les dégradations en achetant des objets sacrés ou des produits issus d'espèces protégées. Préférer le don aux associations compétentes, aux écoles, aux chefs de villages, plutôt que de favoriser la mendicité, notamment celle des enfants. Dénoncer l'exploitation sexuelle des enfants. Dans plusieurs pays dont la France, des lois poursuivent les délits sexuels commis à l'étranger.Après le voyage : Favoriser le dialogue entre les cultures pour permettre un tourisme facteur de paix.
Honorer ses engagements avec les personnes rencontrées pendant le voyage, l'envoi de photos par exemple. Si vous avez remarqué des situations graves et intolérables, les signaler à l'agence qui vous a vendu le voyage ou aux autorités compétentes.
Compenser tout ou partie des émissions liées à son voyage, et notamment les déplacements en avion, en contribuant à des projets de solidarité climatique. Soutenir des initiatives locales en donnant à des associations de développement, en s'engageant au sein d'ONG, ou en achetant des produits du commerce équitable.
Partager son expérience de voyageur, en famille, avec ses amis, ou sur les réseaux sociaux pour témoigner des richesses et des fragilités de notre planète, et faire bénéficier aux autres de conseils pour voyager mieux.
Préparer son prochain voyage, proche ou lointain, en prenant conscience des nombreuses vertus du tourisme, non seulement économiques et sociales mais aussi culturelles et environnementales. Le tourisme donne de la valeur au patrimoine et encourage sa protection.Pour de plus amples informations sur le tourisme responsable et profiter d'autres conseils pour voyager mieux : www.tourisme-responsable.org
Agir pour un tourisme responsable (ATR)
NOTRE ENGAGEMENT AUPRÈS D'AGIR POUR UN TOURISME RESPONSABLEL'esprit ATRÊtre membre d'ATR (Agir pour un Tourisme responsable), c'est s'engager sur la limitation des effets négatifs de l'activité touristique. C'est développer de nouvelles pratiques de tourisme responsable et durable. C'est aussi un état d'esprit qui correspond pleinement à ce que nous sommes chez Nomade Aventure et, surtout, à ce que sont nos clients.La labellisationCela fait plusieurs années que nous sommes engagés dans une démarche qualité contrôlée, tous les ans, par un audit. Aujourd'hui, nous sommes labellisés avec ECOCERT, un organisme indépendant qui contrôle le respect des valeurs affichées par les entreprises.Nous sommes fiers dans ce cadre de participer à l'élaboration de critères mesurables pour :
encourager le développement d'un tourisme qualitatif pour une découverte authentique des régions d'accueil et de leur culture ;
veiller à ce que les retombées économiques soient le plus justement réparties entre les acteurs du voyage, et participer à un développement durable des destinations ;
respecter les usages et différences culturelles des régions d'accueil ;
respecter l'environnement et le patrimoine culturel et naturel ;
informer de façon transparente et sincère ;
s'engager en matière de compensation CO2.Des principes qui sont partagés par toute la tribu Nomade, mais aussi par l'ensemble de ses partenaires, prestataires ou réceptifs.Pour mieux comprendre notre démarche, n'hésitez pas à consulter le Cahier des charges ATR que nous devons respecter. Egalement, pour toute information concernant la labellisation ATR, rendez-vous sur le site www.tourisme-responsable.orgEt vous, que pouvez-vous faire ? Nomade Aventure vous recommande d'adopter durant votre séjour une attitude fidèle aux engagements d'ATR. Ces recommandations sont précisées dans LA CHARTE ETHIQUE DU VOYAGEUR que vous avez reçue avec vos documents de voyage et que vous pouvez consulter à tout moment sur notre site Internet. Nous pouvons également vous l'envoyer par courrier, sur simple demande de votre part.Quelques conseils : évitez l'usage des bouteilles en plastiques, évitez les emballages en portions individuelles, et rapportez tout ce vous pouvez, en particulier les piles et emballages plastiques, difficilement recyclables actuellement dans bon nombre de pays.